Bravo nr 44
---
TH in RollingStone LatinAmerica!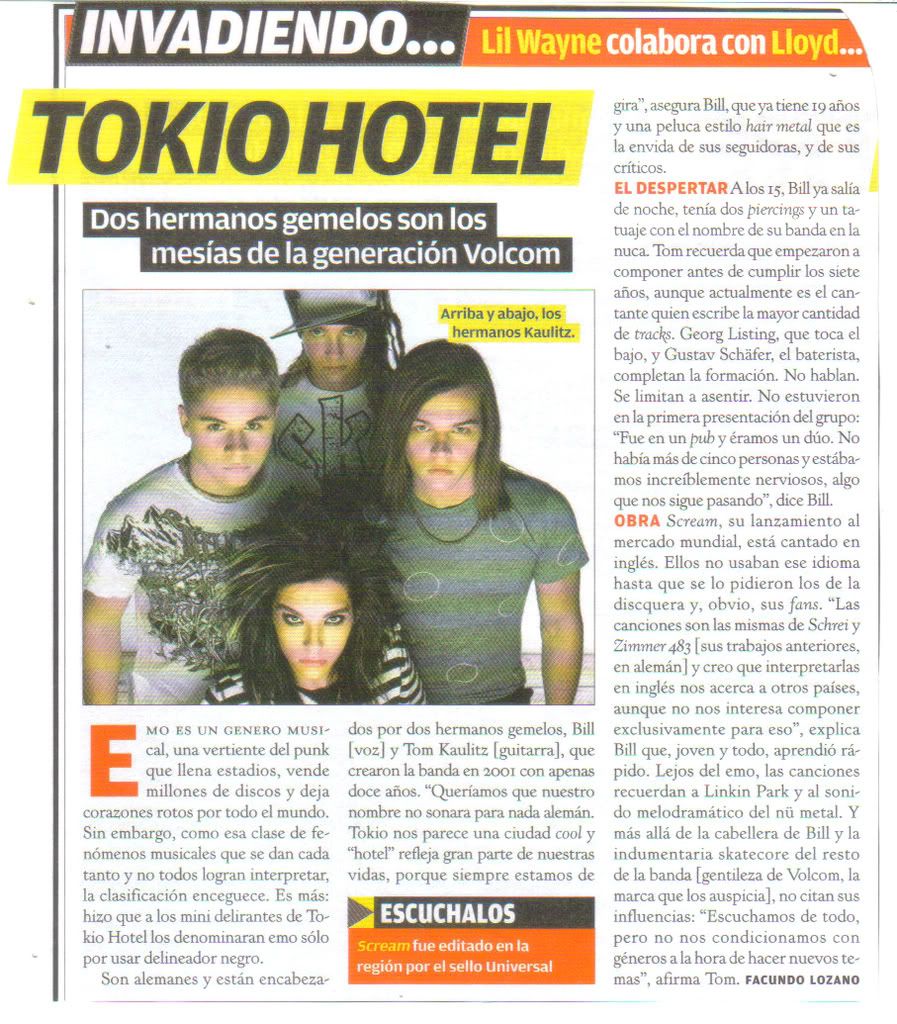 Translate by Caro:
"Emo is a musical genre, comes from the punk that sell millions of records and leaves hearts broken around the world. Despite, just like that music phenomenon that appear every once in a while that not everybody can understand, the classification is not enough. It make that the band (they call them in a pretty way but idk how to translate that) was classify like emo just bcs the eyeliner.

Scream, was their presentation card to the world (they don't say it like that but was the only way i could say it), they are singing in english. They didn't use that language untill the rocord label and obviously their fans ask them.

Far from sounding like a emo, the songs remind to Linkin Parkand the melodramatic sound of nü Metal. And beyond Bill's Hair and the "Skatecore" clothe, they didn't say anything about their influences.

Overall they talk about the twins, Bill hair, Why their name is Tokio Hotel, how thy met Georg and Gustav and the songs of scream."
---
"We wouldn't cope the end of Tokio Hotel"
"We wouldn't cope the end of Tokio Hotel"
In the last part of the Tokio-Hotel-series are the guys very thoughtful!
Full halls, front charts-places, prices on the assembly line, millions of fans all over the world - currently Tokio Hotel are absolute high-flyers. But every now and then, Bill (19), Tom (19), Gustav (20) and Georg (21) think about the time after the hype. So much for them is clear: A life without their band, no one of them can't imagine this: "Tokio Hotel is our life," says Bill. "Would the band be at the end, a piece of us would die. I can't imagine anything else," he says. And Tom adds: "We don't live in a dream bubble, and know that sometimes other people in the charts will be ahead ahead. It's clear to us." Do the boys have fear for havong a crahs? "We wouldn't cope that," says Bill. "We gave everything up for the band - a normal life is just hardly possible. But we won't take drugs in any case. Sure, it's always easy said in the run-up. You never know. But we will solve this differently." But to think about the end of the band, is not to think at the moment. The boys are currently working on her third album. "That's something very new," says Tom. "And we also fiddle about a surprise for our German fans"
De Popcorn #11: Finally a new album!
Trees, bushes, spiders, snakes and all other kind of bugs, the biggest horror for the twins. Bill and Tom hate the free nature and have fear for all, that itches and crawls. Bill: We are complete "drinnis?", we live in the city, go through the city and laying on a beach underneath the sun. When we do it is pure torture. I constantly have fear, that at night cockroaches and spiders will crawl to me!
Finally, a new album in February! Tokio Hotel are at the highest point of their carreer. The price as best newcomer at the MTV video music awards was a sensation. No other German speaking act has ever accomplished this. Now Bill, Tom Georg and Gustav have more plans, In February 2009 a new album will appear. The boys are thinking about new ideas. Even a duet with Miley Cyrus is being a topic of their discussions. With her Tokio Hotel are willing to sing at the awards and make a short video clip. Background: With the song the boys hope to get in to the USA single-charts. For fans good things will come earlier. In November a new TH DVD will appear. Bill: "A cool documentary of our 1000-hotels Europe tour. Everyone will see us backstage and completely without make-up". "Tom didn't occur we had won an award, he checked Britney's breasts the entire time", Bill.
Los Premios Update: METALLICA Ready To Set Fuego On-Stage!
We didn't stutter! Metallica is ripping their heavy metal vibrations back to la tierra for Los Premios MTV Latin America 2008 on October 16th!
As the headlining band, the "Death Magnetic" legends are guaranteed to resurrect los muertos from their sleep (especially Mexican bassist Rob Trujillo)! Los Premios is going to definitely awake your roquero spirit with performances by Cafe Tacuba, Ximena Sariñana, Katy Perry, Julieta Venegas, Paramore, Tokio Hotel, Belanova, just to name a few!
What you actually want us to just stop there? NEGATIVE! We have a música overdose prepared with additional performances from blazin' Boricua duo Calle 13! Their caliente addictive beats are sure to get la fiesta poppin', and Mexican rock band Moderatto is sure to keep the energy flowing with their tight "Chavo de Onda" performance.
Even the red carpet is getting an MTV makeover! Colombian artist Don Tetto will be dominating the catwalk with a fresh espectáculo at "La Afombra de Los Premios MTV 2008." Be sure to brush up on your head boppin' movimientos and jarabe tapatío because you know our fiestas are no joke! Catch Los Premios LIVE on MTV Tr3s on October 16th at 9pm!
---
13/20 33 - Chilean Mag (Oct 2008)
TRANSLATION BY Laura & Cris:
- COVER:
The success has taken us by surprise
- PAGE 1: "The most important thing is the communication with our fans". In Germany the girls are crazy for him, in France love him and in US have an entourage of admirers already. But, what's behind this boy with painted face and dyed hair? Find out through this note.
- PAGE 2: Bill is a character that polarizes. There are those who love him and can't stop to screaming if they're close to him and there are those who hate him and stigmatize him. One can argue for or against, but there's no denying that the boy has talent. His style, his charisma and the way he appears on stage are the factors that have caused the success of Tokio Hotel.
He has a big skill to handle with publicity. But if sometimes seems to be a nice and innocent guy, he can also be hard head when it comes to imposing his will. Bill Kaulitz borned the September 1, 1989 in Leipzig in East Germany. When his parents divorced, he went to live with his mother and his twin brother to Magdeburg. Although he getting good grades, the school didn't like him. As they were going to a school in a neighboring village they had been lifted at 5.30 every day and returning home at night.
He always knew that he wanted to be a musician. His girlfriends often don't understand him when he preferred to go to the rehearsal room to play with your group or give concerts, instead of going out with them. But even then he knew that he must work hard to succeed.
Already in the school he dressed in a very provocative way. His style of today is not an effect of an idea of his record or his representative.
He's authentic. From childhood he liked the bizarre clothes. Bill had his first piercing at 13. The idea came to his look at a party for Halloween, the night of witches, when he dressed of vampire. The outfit liked so much that he decided to adapt it to his daily live.
Which is the main inspiration for your songs?
Our world, which affects to us and to our friends, the histories that people tell us and are especially emotional to us.
And what touch you?
Any and all, there's not anything in particular, are situations in the time and make you feel different things. There's when you want to write it.
It's said that you are lonely ..
Always was, it's no much people who knows me well. I'm like I have to be at every moment.
- PAGE 3:
What attracts you of a girl?
Depends of the girl. Not all the women call my attention with the same details. There are girls and girls.
And the girls that more draw your attention?
Those who don't care who I am.
Regarding your brother Tom, it's true that the twins have a special connection?
Totally. The connection between Tom and me is very strong and special. Despite that we seem wearing, in the way we speak and our tastes in many important points we think the same and we take the same decisions. With just look us we know what think or what will say the other. Is very special.
There's no rivalry between you?
Each plays a role and complement us. Since always we've supported us, it would be strange to see us compete.
Even for girls?
(Laughs) Not even for girls. We have our code of loyalty.
What do you do in your free time?
We hardly have free time, fewer and fewer, but whenever we can we take some vacations to relax, although we continue making music .. Most important thing is sleep, sleep a lot, and sometimes, we also go out to party.
You are ready for so fame? How you cope it?
We never did music with the intention of getting famous, only 'cause we're passionate about, and never imagined this. The fame has been a surprise to us and we live it as what it's .. For us the most important thing is the communication with our fans, all the rest is temporary.
Tokio Hotel are at the highest point of their carreer. The price as best newcomer at the MTV video music awards was a sensation. No other German speaking act has ever accomplished this. Now Bill, Tom Georg and Gustav have more plans, In February 2009 a new album will appear. The boys are thinking about new ideas. Even a duet with Miley Cyrus is being a topic of their discussions. With her Tokio Hotel are willing to sing at the awards and make a short video clip. Background: With the song the boys hope to get in to the USA single-charts. For fans good things will come earlier. In November a new TH DVD will appear. Bill: "A cool documentary of our 1000-hotels Europe tour. Everyone will see us backstage and completely without make-up.
---
MTV Europe Music Awards Get Rickrolled, Tokio Hotel Fans Get PISSSSED! (From Buzzworthy)
Move over ye few remaining aggro Jonas Brothers fans. The latest crop of Internet trolls taking on Tokio Hotel fans are... Rick Astley fans. Yes. For. Reals. The 42-year-old British pop singer, best known for his 1987 cheeseball soul-pop hit "Never Gonna Give You Up" - and, indirectly, for the obnox act of Rickrolling (which, again, I insist would be way more fun if it were RickRossRollin) - is up for a 2008 MTV Europe Award in the same category as Tokio Hotel. Yes. For. Reals.
Along with Britney Spears, Christina Aguilera, Green Day, and U2, Rick Astley and Tokio Hotel are nominated for the Best Act Ever award. That's no small kartoffeln for a band as young as Tokio Hotel. And it's proof that Rick Astley fans, who got him nominated by an open write-in process (even the Ricker himself didn't see the nomination coming) truly can't give up on the Conan O'Brien lookalike. Or the dream. Or the meme. That, or, they just want to know what the simultaneous heartbreak of millions of Tokio Hotel fans sounds like if underdog Astley does in fact pull through. (And sorry, but Britney REALLY deserves it too. Epic comeback, y'all!)
And there's actually a chance that Rick Astley could take it - allegedly his fans have been voting en masse and bombing Tokio Hotel message boards with spam and porn (how woode!), causing some Tokio site admins to temporarily suspend their forums, which is like taking food away from a puppy!
Even if Rick Astley does win, and despite the fact that he's sold in the ballpark of 40 million records over the course of his career, it's safe to say he's not exactly the next Bill Kaulitz or anything, as suggested by the obviously doctored photo above.
Anyway, Rick Astley fans, you kids play nice with Tokio Hotel fans! And may the best man, men, or women win when the EMAs air Thursday, Nov. 6, 2008 in Liverpool.
---
Album
Hit Muse Mag
 has posted an article about the new album
"The waiting will maybe seem unbearable for the fans, but their patience will be rewarded; the new Tokio Hotel album, which was supposed to be released in November, will release in the beginning of 2009. But according to the band's manager, "it will be a very rock CD". Happily!

Contrary to what they announced during summer, the next Tokio Hotel album is not going to be released before the holidays, but between January and March 2009. It's the band's manager, David Jost, who recently announced it. It would seem that the CD, which started to be recorded after the band's most recent and glorious american tour, is very inspired but also very rock. At least, that's what the talented quartet's mentor explained: "The sound is tougher than the one in the precedent albums, Bill has had ideas for new songs for a few months, he passes all his free time on writing lyrics." So we reasonably have to expect for the new album to be a masterpiece..."
---
EXPRESS.DE ARTICLE
Tokio hotel: No time for this many prizes

Four boys that just want some peace: Tokio Hotel. Essentially Bill, Tom, Gustav and Georg should be working on there third album like crazy.

There focus is now constantly interrupted because of another awardshow.

Tokio hotel can't seem to break out of the celebration of awards. After the Echo, Goldener Kamera and four comet awards Bill and Tom Kaulitz (both18), Gustav Schafer (20) and Georg Listing (21) won a MTV Video Music Award for "Best Newcomer" at the beginning of September 2008 in los Angeles.

After this triumph in America the four boys wanted to lock themselves away in the studio in Hamburg to finally produce there third album. The record company is pressuring a lot - the record has to be released at the same time all over the world ( something that only happens with megastars like Madonna or the Rolling Stones).

But it won't go like that: The four Magdeburgers are now nominated for the MTV Latin Awards (on 16 October in Mexico) and also the MTV Europe Music Awards (on 6 November in Liverpool). Lots of stress on the program.

"It gives us trouble keeping up with that time planning for the third album", tells manager David Jost to Express. With every awardshow ( and Universal expects the four boys to be there) the boys are torn away from the studio and that even when every day now counts.

The Tokio Hotel fans expect some fresh and new "TH-material" for there ears.
---
FR: One nr.54 - Interview
Translation by Purplehaze:
At the beginning of September, the Tokio Hotel returned home after a gruelling American tour. Next step: recording the successor to "Zimmer 483". Just before they go into the studio, we've chatted a few minutes with them to take stock of these recent months. Bill and Tom also talk about their next album ...
"I know that it would please some people if we fail with our next album." Bill
So guys, glad to be back home after your American journey? Bill
: Yes, we are very happy to be back home and with our families ... We really loved to spend all this time in the United States, but we really began to have difficulties with the country. A month abroad is a long time ...
Tom
: As for me, I admit that it really wouldn't have bothered me to stay a little longer. I love the US. First, in terms of clothes, it's really great there. I brought a ton of clothes and several pairs of sneakers that you can't find in Europe. And then, I feel really comfortable in big cities like New York and Los Angeles. I really enjoyed it there ...
Your goal was to break through in the United States. Do you have the feeling that you have attained it? Tom
: Frankly, none of us four expected that there'd be so many fans at our concerts. It has always been sold out and the public was as crazy over there as in Europe. I think, we have fulfilled our contract. The mission is accomplished in a way (laughter).
Georg
: We all feel to have managed to achieve something great. I don't think that before us a German band has met such hype in the USA.


Yet, one can slow a bit down the enthusiasm of your American success: during your promo there, you have sold only 100,000 albums, while the goal was to reach 500,000... Bill
: You're right, despite our efforts, "Scream" has not really taken off in the U.S. charts. Frankly, I don't know what the reason is. We have done our best to make our music known to as many people, but the U.S. market is very difficult to access for foreign artists. However, without wanting to sing our own praises, selling 100,000 albums is still enormous for a German band. We are not disappointed by this result.
Tom
: What we enjoyed the most was to receive an MTV Video Music Awards for Best New Artist. We didn't expect that at all since we were in competition with Miley Cyrus, Katy Perry or Taylor Swift, who are far more popular than us over there. To receive this award was a real shock. To date, it may be the best reward we have received for our career. In addition, I must say that I really enjoyed seeing the confused puss of Miley Cyrus when the winners, in other words us, have been announced ... (laughter)
You don't seem to have taken her to your heart... Tom
: On the one hand, I am not a fan of what she does, plus, she doesn't have the physical criteria that I look for in a girl. So, everything is said. (laughter)
Bill
: Tom talks bullshit, as usual! He is an uptight fan of "Hannah Montana", I've have already caught him watching some episodes secretly. (laughter)
Tom
: We will settle that tonight. Secretly ...
How many times have you been asked where did the band name come from when you were in the US? Bill
: (laughter) I don't know. 250 times, the number of interviews we gave there ... I thought, we had returned three years back. The total horror.
Tom
: "How did you come to music" is also a question that has often been asked ... Of course, it's boring having to repeat the same thing for the thousandth time. But it makes humble, it reminds us that not everyone is supposed to know us. It does us good to regain that feeling to start from scratch or almost... We've got down a bit from our little cloud.
Georg
: Yeah, but I admit that it's annoying, though. I thought that American journalists would have a little better swot their subject before meeting us. Alas, no ...


If you have to treasure a noteworthy event of this trip, which would it be? Bill
: For me, it would probably be one of the signing sessions that we organized in a record store. It's always great to be able to meet our fans and listen to the stories they tell. These meetings have inspired me a lot for our next album ...
-34-
"Despite our efforts, "Scream" has not really taken off in the U.S. charts. Frankly, I do not know what the reason is." Bill

Tom
: As for me, I especially remember the times when two fans managed to get into my hotel room while I was getting ready to go to bed. I have absolutely no idea how they managed to find us ... However, I must say it was a rather pleasant surprise. But I can not tell you the sequel, I let that to your imagination ... (laughter)

Let's talk about serious things now, the preparation of your third album. What is its state of affairs exactly? Tom
: We are just about to go into the studio. Needless to say we are 100% focused on this new project. That is why you will certainly not hear much about us in the coming months ...
Bill
: Yes, we are aware that this is one of the most important steps in our career. The pressure is enormous, but we try not to think about it too much. Our goal is to ensure that this album is simply the best we have recorded.
What can we expect sound-wise? Tom
: The idea is to make songs that surprise our fans and show a facet of us they probably don't know. We don't want to rest on our achievements and record a second "Zimmer 483". The idea is to take some more risks, while maintaining our identity ...
Bill
: We also want our lyrics to be more personal. That is certainly the effort that I make. Everything I've experienced in the past year greatly inspired me and I filled notebooks full of lyrics ...
If this third album was going worse than the previous two, would that make you worry about the continuation of your career? Bill
: I know that it would please some people if we fail with our next album. The success has not only attracted sympathies for us, far from it... Now, we don't rack our brains over it. As I said, we are going to make the best possible album. And if it is less well received than "Schrei" or "Zimmer 483", frankly, it wouldn't be the end of the world ...
Tom
: Actually, no band can stay on top forever, we are aware of that. For now, our career is like a fairy tale, it is almost too good to be true. We'll surely experience throwbacks. But whatever happens, we are so passionate about music that we'll never stop doing it, that's for sure.
---
Benzner + Faust on Zimmer 483 production
We thank LoveGoodRock for finding this interesting interview with  producer Pat Benzner + Manfred Faust, discussing technical aspects!
  Quote:
Tokio Hotels latest success album produced with Pro Tools 15/10/07
The buzz about Tokio Hotels second album "Zimmer 483" is at its peak in Europe. The band has taken France almost overnight and had a safe position in the top five album charts for more than 5 weeks with their German album. They score high in Poland and Scandinavia as well and sell out the largest local venues.
Who is involved with the production of Tokio Hotel?
Patrick Benzner: We are a team of four producers in different areas, two of us are working with music creation and songwriting for the band: Dave Roth and myself. Manfred Faust has supervised the recording session and done the mixing of the album.
What did you want to change after the first album?
Patrick Benzner: The main thing we were desperately looking for was a system that does not crash the computer any more (laughs)!
On the first album of Tokio Hotel we were working on a Pro Tools Mix system in combination with a sequencer software as front end. For the new album we decided to switch to Pro Tools completely, including the Pro Tools software. We were looking for a more comfortable way of working with audio files and just needed a few days of Pro Tools tutorial to get going.
Manfred Faust: After getting used to Pro Tools I can't imagine working with different software any more; it consumed so much of my time and energy. Of course you can achieve what you want with many different tools. It's just the question how fast or how annoying it is (laughs). Pro Tools really helps me to be very relaxed in the studio!
What does your Pro Tools setup look like??
Benzner: We have four HD3 systems in our main studio or small vocal recording studio and zwo other studios where we usually just do edits or small overdubs.
Faust: All systems have 16 inputs and 32 outputs, all signals are finally routed to an analogue mixer. For sounddesign I'm only working with plugins though.
What I like most is the reliability of Pro Tools! There are no accidents and random errors like in other software seqeuncers. Pro Tools just exactly does what I want.
Which functions in Pro Tools help you most in you daily studio work?
Faust: All of them (laughs)! Seriously, here are some examples: The session import function is purely ingenious - it helps me building up a session for mixing in no time at all. It just takes a few seconds to import the whole effects of my last mixed song into a new session!
And we use Beat Detective a lot. What I like most is how detailed I can adjust Beat Detective for different tasks and material. When I think about how I used to do my drum editing before... Grouping in Pro Tools is a fantastic feature as well. We also use Vocalign a lot to tighten some of the chorus lines or enhance the comprehensibility of the vocals.
How has the guitars been recorded?
Faust: We record the guitars already amped and blended with different amps. Of course we are also working with Ampfarm and Sansamp on the recorded direct signal of the guitars to get different flavours of guitar sounds. In Pro Tools we do the fine tuning with EQs, compressors etc.
And the vocals...?
Faust: The signal chain for vocal recording consists of Brauner or Neumann microphones and a Manley Voxbox which is directly recorded into the 192 interface. For mixing in Pro Tools I use a combination of plugins and hardware inserts, which integrate my analogue outboard gear perfectly in Pro Tools. The automatic delay compensation is a gift from heaven in this regard and works perfectly fine!
I often use Waves plugins on the vocals, especially the SSL ones, but I also like the UAD plugins. I also use the DigiRack plugins a lot and feel they are underrated a bit sometimes. They do a good job, don't eat up all your resources and are a great tool for creating specific sound colourations.
Which reverbs do you use?
Faust: As hardware we still use our Lexicon 480, the rest is done by plugins, especially TL Space. But especially for guitars I like D-Verb, which is very dominant in the mix.
Could you imagine mixing in Pro Tools completely?
Faust: It actually happens more and more. Especially if I need 100% total recall. This is extremely important in my daily business where I don't have as much time as I do when I mix Tokio Hotel. The mix engine of Pro Tools sounds really good and in my opinion much much better than in other sequencing applications.
Source:
http://blogs.myspace.com/index.cfm?fuseaction=blog.view&friendID=232971181&blogID=438539292
---
BILD.de: These girls want to kiss Bill Kaulitz
BILD.de: These girls want to kiss Bill Kaulitz
Bill doesn't kiss since three years ago - something he should change soon!
Since last Friday BILD.de is looking for a girlfriend for the singer of Tokio Hotel. And, the results are more than what was expected! Many girls competed and sent Bill their photos and letters. Every competitor want the same: to kiss Bill!
The User "bienewed" says: "Dear Bill, I hope you read my letter. My wildest dream is to get to know you better! You're incredibly fascinating and you have such a big aura!"On the BRAVO magazine, Tokio-Bill told he didnt kiss for three years now.
The 19 y/o singer believes he knows the reason for that: "I'm not a player", according to Kaulitz.However, he shouldn't lose hope. On the contrary: on BILD.de, the girls sent tons of affections to Tokio-Bill!
The User "BillsFreundin" can imagine herself giving more than a harmless kiss: "Bill, I want to kiss you, but that's not all: I even want to share my whole life with you."
Translated by Ines @ tokiohotel.org.uk
Source: BILD.de
---
Mexican magazine "Notas para ti"
For all the fans of the band, I give you an interview you'll love... A few weeks ago we celebrated at Gran Concierto 97.7 and I had the chance of going to the backstage to interview Tokio Hotel in German! Well, here it is...
Arturo: Hello boys, how are you? Bill: Very good! We had a lot of fun at the concert, the fans were crazy and we were happy! Arturo: How were you as students, when you weren't in tune with music? Bill: I have to tell you I don't like school at all, (...) I think it was the worst parto f my life. *laughs* Arturo: How did you feel on this concert in Mexico? What did you think about the girls? Gustav: Very good, we had an autograph session where they welcomed us so well, they're an amazing audience! Arturo: In a group of friends there's always someone who arrives later or who falls asleep (...) Bill: Well, Georg always arrives late. Georg: That's not true! *laughs* I think I'm working on it. Arturo: Sometimes, when you're travelling, some things happen or someone has a teddy bear, can you explain me that? Bill: We've been through a lot in the hotels... the girls climb to the balconies and sometimes with no clothes on! Arturo: Oh! Now I know why you're called Tokio Hotel! *laughs* Tom: ... Well, all of us love big cities, and for that we chose Tokyo... Arturo: Mexico is a big city... you could be called Mexico City Hotel, no? Bill: *laughs* We chose the Hotel because we have this dream of travelling and visiting many countries. Arturo: What's next, after being here in Mexico? Bill: We'll be at the MTV Latinoamerica in Guadalajara, wow! Arturo: I really appreciated that you came to Gan Concierto 97.7 Tom (in Spanish): Muchas gracias! (Thank you very much) Arturo: Do you know any other word in Spanish? Gustav: Cómo estás, Chica? (How are you, girl?) Bill: I don't know. Tom: Viva México! Bill, Tom, Gustav and Georg had fun in Mexico, they drove their fans crazy during an autograph session and then we had the opportunity to talk with them! Unforgettable!
Here they come!
More than 3,500 fans met at a square in Mexico City to meet Tokio Hotel, and only 2000 bracelets were given, with the buy of the last album Scream, and by the end only 1200 CD's got their covers signed, which caused confusion among many fans, some of them even ripped of the posters and part of the stage! Oops!
Emotions found...
The fans showed their admiration through many ways: they sang by heart the lyrics, and they also jumped of excitement and other cried really hard (...).
They said...
On the day after the autograph session, these boys talked with the media and told us what was going on with them... super cool!
From Germany to Mexico!
Despite setbacks, these boys behaved so well, never took away the smile on their faces and they were really surprised with the response from their audience, what let them more relieved!
Consent to the fans...
How did you feel?
Bill: Very good, we had the opportunity to meet many girls and we weren't expecting so much love. It was awesome!
Two thousand bracelets were delivered, but only 1200 autographs were given; why was that?
Bill: It was bad and I feel sorry for hearing about it, the record company told us that there were only 50 autographs missing, and that we should finish it immediately, for safety reasons.
During the autograph session a lot of fans fainted and cried, does that ruin the good mood? Bill
: No, on the contrary, we like to see when people are hysteric for us, that gives us a lot of energy that we can use on stage.
Very internationals... Why did you decide to record your lyrics in English and in German? Tom
: We wanted everyone to understand our lyrics, and English is the universal language.
Are you preparing your next performance for the MTV Latin? Tom
: We haven't decided anything yet, but it's something where we can show you something amazing.
When will you be back to our country, for a concert? Tom
: We know it will be soon, we really liked being here.
Which artist would destroy your album? Tom
: That shouldn't happen for any reason, I think we must respect any type of music.
A phenomenon... Do you think you're ambassadors of German rock? Tom
: We've never thought that, but everything can happen.
German bands are known for being "cold", however, seems like you have something Latin, what do you think of that? Bill
: There's no way that we won't greet and smile if we're happy for being here, for meeting new countries and cultures, and thanks for considering us a bit Latin, maybe you're right! *laughs*
Which message do you want to tell with your lyrics? Tom
: We don't want to tell anything specific, all tracks are different, we just want people to have fun while listening to them.
Secrets of the twins... Bill, tell us about your bizarre look, do you get inspiration from someone? Bill
: Around 8 years old I went to a Halloween party and since then I started trying some hairdos and make-up, they're part of my personality!
Once twins, when did it all changed between Tom and Bill? Bill
: Until when we were 6 y/o we looked pretty much the same and only after that we started on changing the clothing, but we've always been too similar on the inside.
Did you ever switch personalities to be with girls? Tom
: Yes, once we even dated the same girl, but I kissed her first! *laughs* Translated by Ines @ tokiohotel.org.uk
---
The dark side of success
The dark side of success
It is not all gold that glitters. Tokio Hotel is also annoyed of some sites of their celebrity life.
For three years, they are under constant observation. Whether on holiday on the Maldives, the stroll through Paris or in front of every hotel in the world. Wherever Bill (19), Tom (19), Gustav (20) and Georg (21) stay, paparazzi are not far, an photoflash-storm goes down to the guys. Not always to the delight of the four, as they betrayed BRAVO.

BRAVO: What do you hate in your life as a star?
BILL: The positive outweighs the course. But I hate it, that we don't have any private stuff. And the badest thing are the paparazzi!
TOM: For us, it's important, to protect the life of our family and freinds. They have nothing to do with our job. If we are with them, it's bad for us, especially when paparazzi appear.
BILL: You have to be truly an evil man, to be a paparazzi. I hate them.

BRAVO: Thereby, you have luck here in Germany - here are paparazzi harmless.
TOM: That's true. In other countries it's really harder. In France and America are the paparazzi the most glaring.

BRAVO: What is annoying you?
BILL: Sometimes, everything it too much for me. Then I lie in the bed and think: "I can't anymore!" Then I will simply not stand up, can't laugh for a shooting into the camera or inspire people. I feel as if someone have to help me. Because I totally lacking self-confidence and I simply want a break.
TOM: Sometimes I have homesickness.
GEORG: When I'm long on the road, I miss my family. And then, sometimes I get a bad mood.
BILL: I get oftener sich. And if I'm away from home, is this terrible. Then I'm missing Germany totally. I'm also sad, when I'm alone in the hotel room. As much as I love it, to be with the band on the road - in hotel rooms I'm really sentimental. I can't even say exactly why. But then I wish myself into my own bed. While Tom would never admit it, but I bet he is sometimes sad. At the latest, when his hotel room acquaintances are gone again.
TOM: I also miss often the german toilet paper. (laughs). If we are at the end of the world, we're really looking forward to coming home ...

BRAVO: You have to live with many scandals and rumors. How do you handle with it?
BILL: Mostly we know it before, what there will be. Sooner, when we had dinner at the club, we knew exactly what there will be at the next day in the newspaper: "Teenagers drink alcohol. How can they be a role model?!"
TOM: Or something like: "Tom sits alone at the table - separates the band?", is also very popular.
GUSTAV: Or: "Bill looks sad - does he have depressions?"
TOM: Everything, that people, who never know us personally, write about us, I don't really care. But if it's about our families, it's not okay.

BRAVO: There was the story about your grandfather, who allegedly shooted around.
BILL: The funny thing is, that this wasn't our grandfather. We even didn't knew this man.
TOM: Just over 20,000 corners. But everbody says, that we're related with him.
BILL: Just like in school. There was then suddenly every girl with us together and each class mates were our best friends. And I should also owe all the people twenty euro.
---
Tokio Hotel Worry Their English Isn't 'Cool' But Plan To Translate Next LP Anyway
Tokio Hotel Worry Their English Isn't 'Cool' But Plan To Translate Next LP Anyway
Fresh from their VMA win, the boys headed back to Germany to work on Scream follow-up.
Tokio Hotel just won the Best New Artist VMA on the strength of their first English-language album, Scream, and their popularity in the U.S. continues to grow. But though they've been touring in the States and making plenty of public appearances in English all year, the four young Germans say the language barrier is still quite a challenge for them - one they plan to tackle again as they work on their next LP.
"You know it was really hard to do a set, or even to do interviews in English, because in Europe, we always had a translator with us," 19-year-old lead singer Bill Kaulitz said. "I think it's really hard for me ... to sing in English, because it's not my mother tongue. I really wanted it to sound natural [on the album], so it took some time in the studio, and we always wanted to do it this way: first in German, then translate everything into English. The English record is a part of us, and we really wanted to go ahead with that."
Bill explained the difficulties of properly translating German slang. "We translate, or we want to, everything," Kaulitz said. "Of course, our German phrases like, 'big cinema,' it's 'grosses Kino' in German. This red carpet is grosses Kino. It's like, 'beautiful,' 'awesome.' "
But TH are determined to keep on honing their linguistic skills for their follow-up LP. "First, we write German songs, and we translate some to English," guitarist Tom Kaulitz said. "We have always German records and English records. I think that's the best way."
Tom said he worries that because their grasp on the language is so unfamiliar, they come off sounding uncool, or "too grown-up."
"Our vocabulary is just school English, so we have no slang, no cool words," he lamented.
The guys aren't going to let the language barrier get them down as they head back to the studio. "After America, we directly go back to the studio in Germany, and we are still in the creative process of our next record," Bill said. "So we're writing songs, and we'll be recording some stuff. So we have a lot of work, and then we do the new record, yeah. No, we have no ideas [what we might call the album]."
"But it will be a great name and an amazing album," Tom added confidently.
Here is a video that goes with this.
---
Interview with Tokio Hotel in Mexico.
Translation by pwrpuffgrl@THA.
Guy: How are you feeling here in Mexico?
Bill: We're very happy, we had a lot of fun onstage and we're just so happy to be here.
Guy: How did you get together as a band?
Tom: We met Georg and Gustav when we were 7 years old, we were together in various projects when we were younger, all of them had to do with music. Eight years ago we came together as a formal band.
Guy: How was your life as students in school?
Bill: It wasn't the best period of our lives, to be honest. Our grades weren't the best at all, they weren't bad but sometimes we got grounded because of them. Our time at school was never the best.
Guy: How do you see and feel all the mexican girls?
Tom: We are very happy to see all the girls, yesterday we saw around 5000 people at the autograph signing, that was great. Their welcome has been awesome.
Guy: In every group of friends there's always the slob, the leader, the one whose always late. Who are these people in the band?
Bill: Georg is always late.
Guy: Georg is saying that it isn't true...
Georg: I'm getting better in being on time.
Gustav: I'm the relaxed one.
Tom: I'm the sex symbol.
Guy: There are always embarrassing moments while you travel. Any moment you'd like to share?
Bill: We have a lot of embarrassing moments but what we always have are girls that sneak up to our hotel room, climbing two floors just to get to us from the outside.
Guy: We know you a little here in Mexico but we would like to know more. Why Tokio Hotel? You guys are from Germany.
Bill: We like big cities so we thought Tokio could be appropiate.
Guy: Well, Mexico City is a big city. You can name the band Mexico City Hotel
*everyone laugh*
Bill: And since traveling around the world was our dream, we chose the word hotel
Guy: What are your plans after Mexico?
Bill: We're flying to L.A. to continue the tour tonight and for the VMAs, we are nominated two times.
Guy: Thanks so much for coming. In two days is your b.day, what are you doing?
Tom: We don't know yet but it will surely be dirty!
*Then the guy starts talking about they make a concert for the station every year since 20 years ago and that they are honored to have TH*
Guy: Thanks again.
Tom: Muchas gracias.
Guy: Any words in spanish?
Gustav (yes, it's him): Como esta chica.
Tom: Hola. Muchas gracias. Te quiero puta (puta is an offensive word so obviously the guy didn't translate that hahaha)
Georg: No.
Bill: Viva Mexico!
---
Bravo nr.40/2008


Germany, France, England or the U.S.: No matter where the guys show up - everywhere the same scenes: fans, who totally freak out, who scream the names Bill (19), Tom (19), Gustav (20) and Georg (21), who can sing the songs along. Many TH-fans go even further, making clear offers their darlings - for example on gross poster slogans: "F**k me through the monsoon" or "Tom, we want to give you a blow job" are almost harmless. In the fifth part of the great BRAVO-series, the boys reveal exclusively what there's real - between them and the fans.
BRAVO: What are you saying about the partial hard slogans of your fans?
TOM: I think it's cool, that our fans are so directly (grins).
BILL: That makes our fans. But to be honest: Initially, we were sometimes short of breath.
BRAVO: What were the most beautiful experiences so far with your fans?
BILL: The first gig after "Durch den Monsun" was published - and suddenly so many fans were singing the song along. The concert had even canceled, because the crowd was too big. This has overwhelmed me!
TOM: Just until we were in Mexico. Once we had about two hours to write autographs. The fans were so touched, and many have even cred, just because we were there. It was so gross. We were also previously been in the South American countries and didn't know, that we are so known. And suddenly there were thousands of people. It was really unbelievable.
BRAVO: Were there once really gross situations with fans?
TOM: Oh yes. In Madrid once the situation was out of control. Gustav went into his hotel room. But in his bed were already fans. They were fallen Gustav directly around his neck and he has become so frightened. At Bills and my room were already quite a lot in front of the door. They constantly knocked, they climbed up the fire brigade, have totally screamed.
BILL: Then suddenly the police appeared. They have entered the door and drag me out of the room. "Are you Bill Kaulitz?" they have screamed. Then they took my hands together, interrogated me and claimed that I was responsible for the chaos. The problem was: They couldn't speak English, they only spoke Spanish. I hardly understood anything. Then Tom tried to contact our security people. When they arrived, the matter could be resolved. The police really wanted to take me to their police station.
BRAVO: But here, the fans went too far, or?
BILL: Well, that was traumatic and violent.
TOM: But since we were holding on as a band - then it bothers us really not. That's just a part of it and makes us not be afraid or so. While it was already gross, but also actually funny again. But if we are at home, we're glad about tranquility. Then we're not giving autographs and taking photos. But if we're on the road, we're doing this for sure.
BRAVO: Were you already nasty to your fans?
TOM: So we would never be knowingly nasty to our fans. They are too important for us.
BILL: We certainly never wanted to do something nasty to them. We love them. But everyone has a bad day and looks bad. Sometimes we just couldn't give everyone an autograph. Then we're in stress and must continue to the next appointment. We're constantly on the road for our fans and we're for sure no assholes.
BRAVO: Hand on the heart - were there also some embarrassing moment with your fans?
TOM: Nope. Only once, a girl wanted to come with me to my hotel room and fell down on the way.
BILL: Or the scene at the airport: There were girls screaming "We want to f**k you" - right in the dead silence there. That was then embarrassing, but more for them.
BRAVO: Tom, how many groupies did you have had in your bed?
TOM: Hmmm, that's really difficult to say. I don't count.
BILL: Yeah, but he has such a clicker (laughs)!
TOM: What I can say, I had more often a woman in my bed than I was on the toilet (laughs loud). No, nonsense! Now seriously: I'm even become somewhat quieter.
BRAVO: That means ... ?
TOM: I still don't get it by myself - but perhaps with 19 I already rejected the horns. Not that sex would become boring. But I also prefer watching a DVD in the evening. The other is indeed very strenuous (grins). Meanwhile, I could even imagine something stronger. But the girl really would have to strike me.
BRAVO: And how about the groupies by Georg and Gustav? Are they so wildly like Tom?
TOM: As far as we know, there is nothing (laughs)!
BILL: There are no guys, which represent a girl. Gustav had at the beginning of our career a girlfriend. But even then was nothing more.
TOM: Georg is doing so as if he were a macho. But he prefers it, when she's offensive.
BILL: Inside, he's dirty but outwardly too shy.
TOM: You have to show him what's happening. There were for sure already some girls, who liked him and the other way too. But none did the first step. With me it's different - I belong to the hunters and collectors.
BRAVO: And what about you, Bill - there was still no kiss for you?
BILL: No, not yet. That totally makes me really sad. I'm 19 now and that's missing me completely. I'd really like to have a girlfriend, with whom I could share my life, whom understands everything, what I do. Although I have Tom. But I absolutely want a girlfriend.
BRAVO: But the offer is huge for you?
BILL: It's difficult to open yourself to someone. I have no time, I'm always on the road. When I meet on a after-show-party girls, I never know what they really want. I also see in the near future no way - that's bad. But I still have the music, this is my backup. And dogs are my substitutes. Sometime, I want to have many dogs. They make me happy.
---
"I admire Tokio Hotel"
What a flatter! The world star Nicole is animated with Bill, Tom, Georg and Gustav!
Who would ever think of that? Nicole Sherzinger (30), singer of The Pussycat Dolls and a superstar said she was fan of a German band: Tokio Hotel!
Exclusively for a BRAVO interview, she confesses: "I totally admire the boys! They're amazing!" How did she ever pay attention to Bill, Tom, Gustav and Georg? "At the MTV Europe Music Awards 2007 in Munich!" she tells excited. At the big event in last November, the four boys from Magdeburg met the American singer and chat at the After-Show-Party. In February, Nicole went to one of their concerts in Los Angeles/California. "The boys are great! I love their concerts!"
Now, they finally met again: at the MTV Video Music Awards 2008 in Los Angeles, where Tokio Hotel won the award for Best New Artist. Once again, the 30 year old was amazed with the boys "I think they're incredibly talented. The boys are so fresh, so different and young. That's really cool!" So cool that even makes the singer think about working with Bill, Tom, Gustav and Georg: "I was once member of a rock band. So, I can imagine myself making a rock song with them!"
And what does the singer thinks about their career in America? Will they have this great success? "They've just been in the USA. However, they already have much success here. I'm very proud of them!" Wow - and that said by a Pussycat Doll!
Right now, she and her girls have success all over the world: with the single "when I grow up" from the new album "Doll Domination".
Maybe soon, Nicole will be at Top Ten with a new rock song, as co-singer of Tokio Hotel...
Translated by Ines @ tokiohotel.org.uk
Source: German BRAVO nr.40/2008
---
The Ramsus talks about Tokio Hotel
Interview:
Interviewer: What do you think about the band Tokio Hotel?
Lauri: We love them .... I think ... I don't know too much about this band ...
Interviewer: Are they big in Finland?
Lauri: Yeah! I think that they're quite huge in Finland. But there're only one thing that I know for sure that they stole our rift.
Interviewer: Which one?
Lauri: It's a song called "Spring Nicht", yeah... It's exactly like a rift in our song "Not Like the Other Girls"... Actually we got that from the fans... The Rasmus's fans . They send us... they made like a video where they edited those two songs after each other.
Interviewer: Very interesting...
Lauri: Yes! ... I wish all the best for the band.. I think they have a good atittude and... some talent to get very far.
This was nice said, don't you think so?
---
Number One 37-2008 - HQ
---
Article
MUNICH (Hollywood Reporter) - Four fresh-faced rockers are transforming the fringe esoteric image of German pop into the new global teenybopper cool.
Tokio Hotel -- a foursome whose origins date back to 2001 -- are fronted by spiky-haired singer Bill Kaulitz, 19. His identical twin brother, Tom, is the band's guitarist.
Together with their slightly older rhythm section, Georg Listing and Gustav Schaefer, the brothers have sold almost 3 million CDs and DVDs, packing venues throughout Europe and Japan.
Girls in such countries as Poland and France are learning German in order to understand Bill Kaulitz's lyrics of teenage disaffection. In Israel, where editorial writers worried about the historical ramifications, tens of thousands of fans signed a petition to get Tokio Hotel to play in Tel Aviv last year, and the band obliged -- to a huge open-air crowd.
In the United States, the band's English-language album "Scream" peaked at No. 39 on the Billboard 200, and they won the fan-voted best new artist award at the MTV Video Music Awards in Hollywood earlier this month. The Los Angeles Times described Tokio Hotel as a "young emo-glam outfit" who sound like "the Jonas Brothers covering Guns N' Roses."
Tokio Hotel owe their success to "the professional and meticulous work of a team of producers and managers who maintain control over their 'product' at all times," German music journalist Olaf Tost says.
"Bill Kaulitz, with his androgynous, vulnerable and yet energy-laden persona, is something of an emotional anchor in the sea of teenage angst for his fans," Tost adds.
One of the main members of the Tokio team, producer and co-writer David Jost, describes meeting Bill Kaulitz for the first time as a life-changing event. "I was 100% certain they were going to break the roof in Germany," he said. "I would have bet the whole German music and media industry on this. But of course I never expected this thing to take off internationally."
The U.S. fan base was built mostly via the Tokios' YouTube channel, updated with professionally made and English-subtitled videos at least once a week. The intro to the channel declares triumphantly, "It's only a matter of time before the hysteria follows them stateside."
"A band from Germany getting big all over Europe -- with the chance of even more -- that happens every 20 years, maximum," Jost says.
Tost is a bit more skeptical.
"They may have some temporary success in the U.S. But for the long term they might not have the 'special something' -- like (German hard rockers) Rammstein does -- that makes them different from other bands," he says.
---
Bravo no. 39
---