MOVED!!
We have officially moved to
http://www.tokiohotelswe.freejoomlas.com
!!! Hope you will continue reading what we write there and have a better time there!!
See all you guys there then ;D
Hugs Ica & Hanna :)
---
Tokio Hotel: Is Gustav forgotten?


"Tokio Hotel" Gustav was seen with a pretty blonde.


Tokio Hotel is currently one of the most successful groups from Germany. At every international awards creams the guys to front man Bill Kaulitz countless prices. But her private life is not much reported. Supposedly all the guys are single.
Tokio Hotel and the women


A few weeks ago betrayed front man Bill, that he eagerly wants a girlfriend. Gustav - his band colleague and drummer of the band - it seems to be one step ahead. Indeed, according to the Bild-Zeitung, Gustav was in Los Angeles next to a pretty blonde. The two seemed very familiar, comfortably ran through the streets of the American metropolis. One can therefore eager to see whether it develops something ...
Source:
http://www.energy.de/portal/news/2008-10/tokiohotelgustavvergeben/index.html
---
Bravo nr 44
---
New DVD
October 22, 2008 update.
Tokio Hotel plans to treat their fans the first time by launching a new double DVD, titled "Tokio Hotel TV - Caugh On The Camera" and due on December 5 in France. The first disc, called "The History", sees the German group to review and comment on the last twelve months they have gone crazy. The first DVD actually contains all new images released by the singer Bill Kaulitz and his henchmen on Tokio Hotel TV on their official website, and includes several exclusive footage never broadcast, feature stories of four members of the German group.
The first disk proposed "Tokio Hotel TV - Caugh On The Camera", "The History," also offers a series of images and backstage Tokio Hotel in private, conducted in 2007 and 2008, throughout the journeys of the German group in Europe and the USA elsewhere. After the first puck, the second named "The Future" is as unique as it proposes to follow Tokio Hotel in the preparation of their new studio album, which will be released during 2009 to worldwide, including in France on Polydor. The second DVD presents the exclusive German group in privacy during their moments of relaxation between two trips promo and recording their third studio project. Each fan will discover the scenes of the preparation of the new studio album of the Leader Bill Kaulitz and his henchmen, the materialization of ideas in music, writing texts or recording of their original titles.
Finally, the followers of Tokio Hotel will be delighted to hear exclusive excerpts from several models of the new songs of the German group. At a time when the singer Bill Kaulitz and his cronies are caught between promoting their new studio album in English in the USA and recording their third studio album, with worldwide release is expected before summer 2009, their new double DVD released in three versions beginning in December in France on Polydor. First, a standard edition of "Tokio Hotel TV - Caugh On The Camera" is presented. It includes a digest of the contents of the two washers, "The History" and "The Future" on DVD. Then, a deluxe version is valid, it is enriched with the full two DVDs of "Tokio Hotel TV - Caugh On The Camera", "The History" and "The Future". Finally, an edition bundle will be available before the holiday season, it contains the deluxe version of "Tokio Hotel TV - Caugh on the camera and a t-shirt new collector.
Highly anticipated by fans for the first time, this new double DVD is like a cherry on the cake, because in the space of just three years, Tokio Hotel became the German group's most popular in Europe. France is one of the biggest territories Leader Bill Kaulitz and his henchmen, and the German group went events records. Tokio Hotel already has assets in a unique concert at the Eiffel Tower to over 500 000 people, two Palais Omnisports of Paris-Bercy and a huge tour of eleven dates sold out in 48 hours or a concert at " Parc des Princes, "among others. Finally, to date, all albums and
DVDs combined, over one million units were sold on Tokio Hotel in France (Top 3 of best international sales for 2007).
Source
---
Greece?
There is a rumour that Tokio Hotel will play in Greece in March 2nd and 3rd and 24th June. Great with some european rumours, Im getting tired of the US (no offence ;) )

---
More KISS FM Phoenix 17.10.08
---
Pictures from iloveradio! (20.10.08)
---
Concert in Sweden?
No!! It's FAKE!! Don't trust it!!
---
Seen this??
Have you seen Toms new cap??
Take a look here then! Isn't it wonderful?
I love this first one where he is smiling and everything too :):)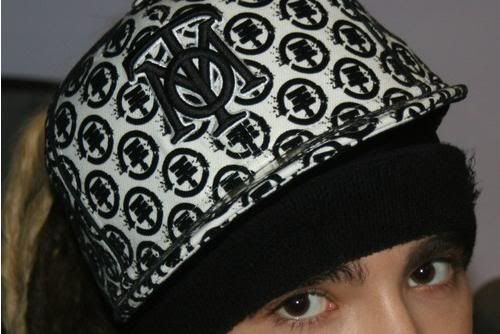 ---
TH in RollingStone LatinAmerica!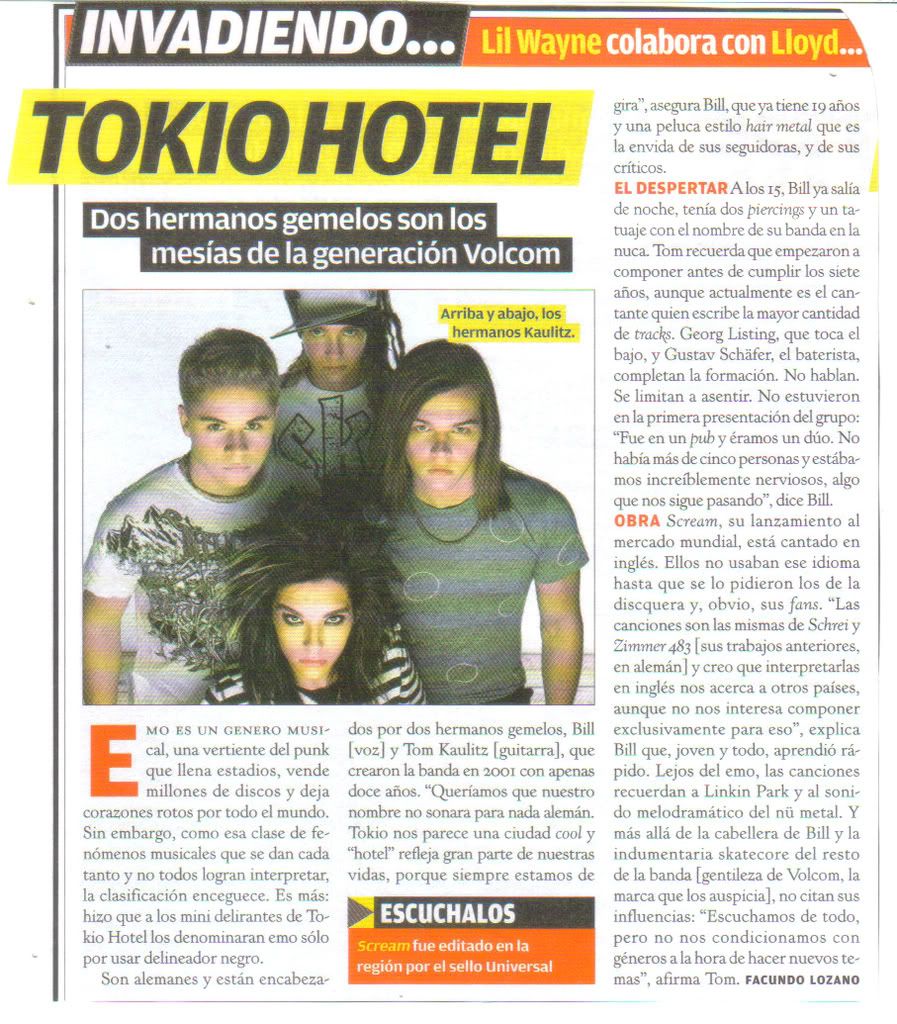 Translate by Caro:
"Emo is a musical genre, comes from the punk that sell millions of records and leaves hearts broken around the world. Despite, just like that music phenomenon that appear every once in a while that not everybody can understand, the classification is not enough. It make that the band (they call them in a pretty way but idk how to translate that) was classify like emo just bcs the eyeliner.

Scream, was their presentation card to the world (they don't say it like that but was the only way i could say it), they are singing in english. They didn't use that language untill the rocord label and obviously their fans ask them.

Far from sounding like a emo, the songs remind to Linkin Parkand the melodramatic sound of nü Metal. And beyond Bill's Hair and the "Skatecore" clothe, they didn't say anything about their influences.

Overall they talk about the twins, Bill hair, Why their name is Tokio Hotel, how thy met Georg and Gustav and the songs of scream."
---
Concert?
According to 104.7 KZZP Phoenix, Tokio Hotel will play the Phooson Concert at the Cricket Wireless Pavilion on December 5th, 2008. Tickets are onsale now at livenation. We do not have official confirmation from TH yet, but I cannot imagine why the radio station would tell us if it were not true.
Tickets also available on Ticketmaster.com
http://www.ticketmaster.com/Phooson-2008-tickets/artist/1265322
[tokiohotelamerica.com]
---
Official Fanbook
You can purchase the Tokio Hotel Official fanbook over
here
. More news as it comes on when it will be more widely available!
---
We need to talk.
So...

We are so sorry for not posting any new news for a while. And we feel that we haven't introduced us to you so here it goes..

We are two girls from Sweden that decided to make a blogg and help other TH fans to know what the boys were up to. We posted news, and took breaks on holidays. Then we were in year 8. Now we are in year 9, the last year in Swedish primary school. And we have a lot to do. We have really much homework and to be straight with you guys, we haven't had the time or any energy to update this site. Sometimes on week-ends we find some time, but then we get really stressed and it doesn't end up well anyways. 

We will continue with the site and try to find spare time to update, but just for you to know why we haven't updated. Sometimes it goes days, week or months without any news. 

We hope that you'll understand that we are really stressed and school always comes first. 

Hugs and Kisses!

Hanna & Ica 
---
MTV official page
"And never fret Tokio Hotel fans. After giving one of the most memorable performances of the night at last year's EMAs, the band has been confirmed as one of our presenters this year. Will they also walk away with the award for Best Act Ever? Only YOU can make that happen by continuing to vote, vote, vote."
---
Liverpool - Nov 6 — Tokio Hotel
Tokio Hotel will present an award at the EMAs in Liverpool!
---